We help people
live healthier,
happier, and longer.
Because everyone
deserves to
live better

.

It all began with a burning desire to help bring the lifesaving potential of cord blood stem cells to Asia. After seeing how a life-threatening disorder affected a friend's child, who needed a stem cell transplant to stay alive, our founder started Cordlife in Singapore to make sure that people in similar situations can get cord blood whenever they need it. Since our inception in 2001, we have expanded to many countries to help people store their baby's lifesaving cord blood stem cells. Today, we offer products and services that go beyond cord blood banking to help people live healthier, happier, and longer.
Our
Business Segments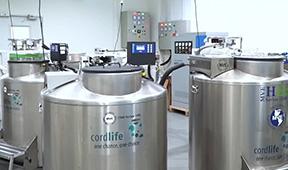 Banking
Cordlife is a leading pioneer in the provision of cryopreservation services in Asia. We assist families in storing biological products like cord blood, cord lining, cord tissue, corneal lenticules, and gut microbiome.
Diagnostics
We're passionate about preventive and preemptive healthcare. We believe it's important to detect health issues early so that appropriate steps can be taken. After all, nothing matters more than good health.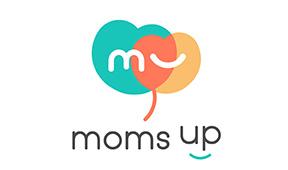 Digital Healthcare
As the world embraces digital solutions at an increasing rate, we created Moms Up, a mobile app that provides health info and tools to Asian women who are pregnant, planning to have a baby, or have young children.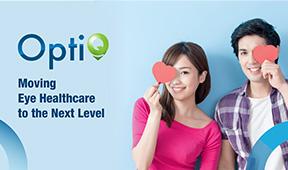 Others
We're constantly looking for ways to expand our footprint and business scope to further solidify our position as the leading healthcare provider in Asia, all in the hope of helping people live healthier, happier, and longer.
Our
Footprint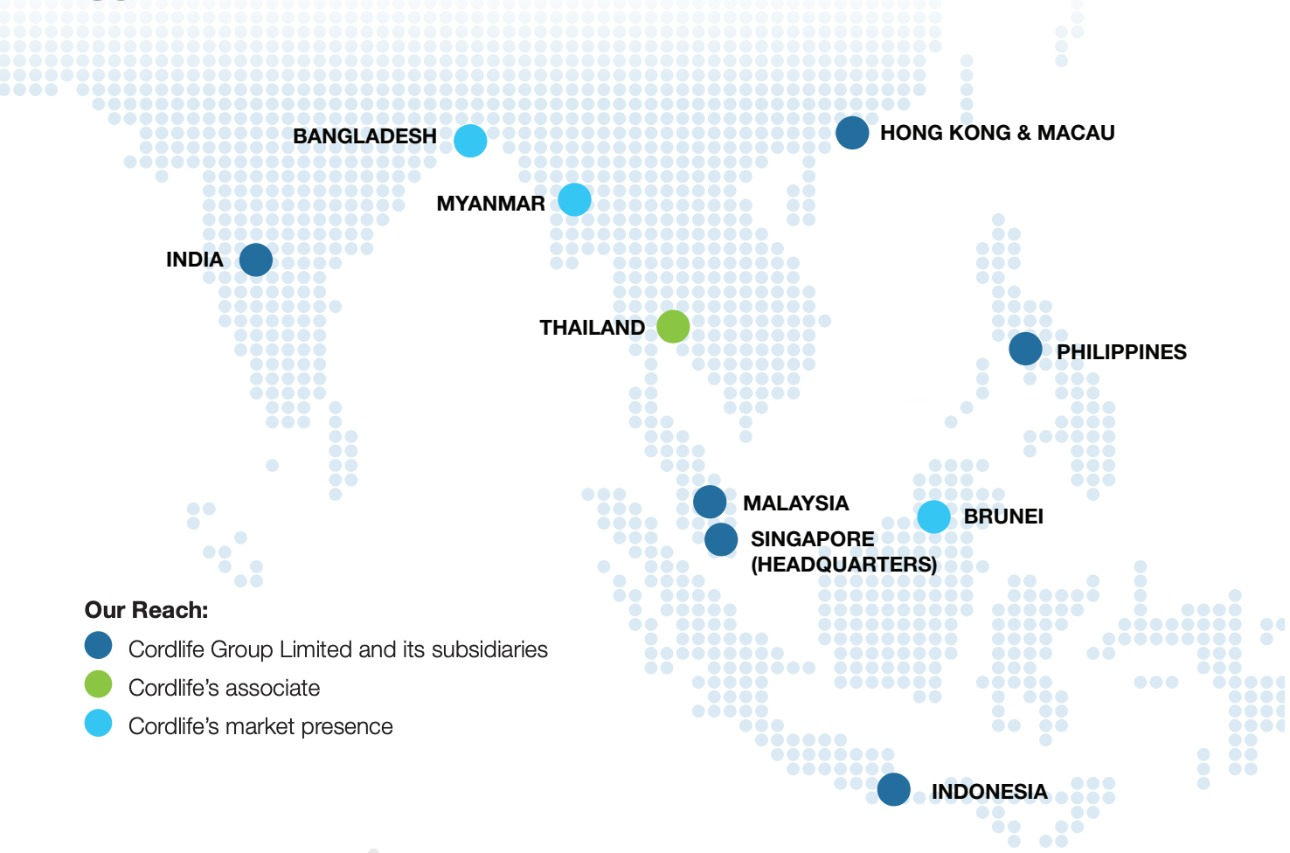 Cordcell Bangladesh Limited
228/Ka , 4th floor , Kuril Progoti Sarani
(Near Jomuna Future Park )
Dhaka -1229
Bangladesh
Cordlife Sciences India Pvt. Ltd.
Corporate office: Unit No. 1102,
11th Floor, Acropolis Mall,
off Diamond Harbour Road Bishnupur, 24
1858/1, Rajdanga Main Rd, Kasba,
Kolkata, West Bengal 700107
Cordlife (Hong Kong) Ltd
Unit G15, G/F, Biotech Centre 2, 11
Science Park West Avenue, Hong
Kong Science Park, Shatin, Hong Kong
Cordlife Myanmar
Marketed by BIO Secure Co., Ltd.
51/A, Baho Road,
Ahlone Township, Yangon, Myanmar
THAI StemLife
566/3 Soi Ramkhamhaeng 39
(Thepleela 1), Prachaouthit Rd.,
Wangthonglang, Wangthonglang,
Bangkok 10310
Cordlife Medical Philippines, Inc.
Unit 104 Building H UP-AyalaLand TechnoHub
Commonwealth Ave. Bgy. UP Campus,
Diliman Quezon City Philippines 1101
StemLife Malaysia
B-7-15, Megan Avenue II,
12 Jalan Yap Kwan Seng,
50450 Kuala Lumpur, Malaysia
Cordlife Group Limited
#06-01/09, A'Posh Bizhub
1 Yishun Industrial Street 1
Singapore 768160
Cordlife Brunei
Jerudong Park Medical Centre
Brunei Muara
Brunei Darussalam
P.T. Cordlife Persada
Corporate Office & Laboratory
Jalan Bungur Besar Raya No. 23
Gunung Sahari Selatan, Kemayoran
Central Jakarta, 10610 Indonesia
Singapore
Malaysia
India
Philippines
Hongkong
Indonesia
Our
Brands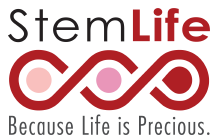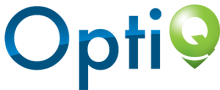 Lives that we've
touched

.
Ee Han, Singapore
diagnosed with developmental delay and quadriplegic cerebral palsy
When Ee Han was three months old, his parents noticed he couldn't hold his head up. He was later diagnosed with delayed development and quadriplegic cerebral palsy. His ENT specialist confirmed his severe hearing loss in both ears. Since then, Ee Han has gone through numerous therapies and used hearing and walking aids to improve his life. Ee Han's parents met the parents of another child who had a similar condition and improved after receiving an infusion of his own cord blood. This prompted them to allow Ee Han to receive the same therapy using his own cord blood, which had been stored with Cordlife since his birth.
Dr Keith Goh, a consultant neurosurgeon at Mount Elizabeth Hospital, administered Ee Han's cord blood infusions in 2014 and 2015. Each round was completed in under 45 minutes. Dr Goh and Ee Han's parents noticed that after the infusions, Ee Han could sit up faster and had better emotional control. "Ee Han's motor skills have improved, and he now has greater strength and control over his limbs. He can even walk with support and is more responsive and cognitively aware," said Dr Goh.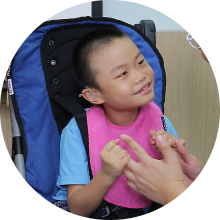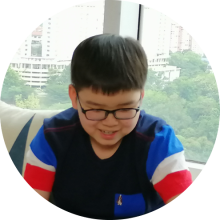 Lucas, Malaysia
diagnosed with chronic myeloid leukaemia
Lucas (alias) was a normal, active boy until the age of 10, when he became lethargic and lacked appetite for no apparent reason. He also lost a lot of weight and was frequently sick with fever and vomiting. In 2017, doctors diagnosed him with chronic myeloid leukaemia after months of testing at various hospitals in Malaysia and Singapore. Lucas' recovery required a stem cell transplant.
Fortunately, Lucas's parents had stored their youngest son's cord blood with Stemlife when he was born, and it was a match. Lucas had a successful transplant a year later thanks to the cord blood, and he is now in remission. Stemlife secured an insurance payout to assist the family with their medical costs as part of the cord blood banking contract.
*Stemlife is a majority-owned subsidiary of Cordlife Group Limited.
Moinam, India
diagnosed with thalassaemia major
Moinam was diagnosed with thalassaemia major when he was barely one year old. Most children with this genetic condition do not live past the age of 10 unless they receive a stem cell transplant. Fortunately, when his sister was born, his parents stored her cord blood with Cordlife, and she is not only thalassaemic-free, but also a perfect match for him. Moinam received her sister's bone marrow in addition to the cord blood for the transplant.
"We chose to use both bone marrow stem cells and cord blood stem cells because their success rates are higher and faster than bone marrow alone. Stem cell transplant is the treatment of choice and the cure for thalassaemia major," said Dr Mukherjee, Medical Director of Netaji Subhash Chandra Bose Cancer Research Institute.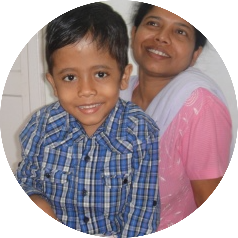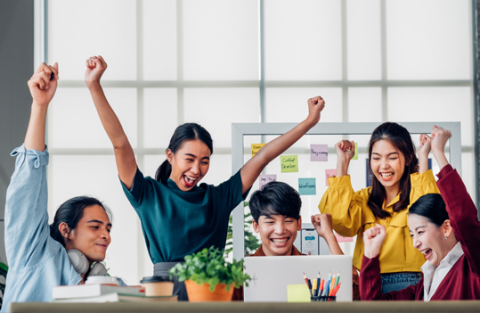 Join us to learn more about what we do at Cordlife and to get a head start on your career.